Pues ya que vendieron estupendamente el Live DVD『KAT-TUN LIVE TOUR 2008 QUEEN OF PIRATES』. Les han preguntado como ven el 2009 tanto en la vida laboral como en la privada, y esto es lo que han contestado ^^
Kamenashi Kazuya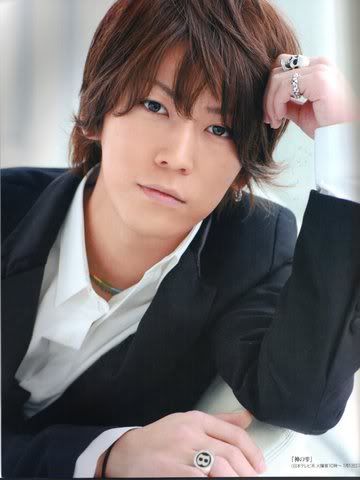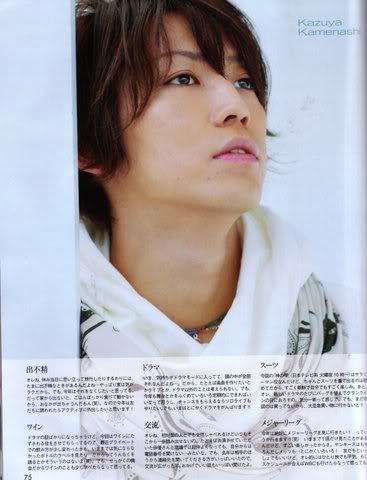 Stay-at-home
Although I decide to go travelling on the days of my break, I have times when I stay at home…Because home is more comfortable after all. But I want to get rid of that this year. If I don't leave my home, since I'll only eat and not move, I'll get a tummy (laugh). Therefore this year if my friends ask me out, I want to go and be more active!
Wine
I'll end up talking about the drama only but because I've been given a role that has something to do with wine, lately my method of drinking in private has probably changed a little. Up till now I just look at the label without thinking too much about it… That's why there's no such thing as talking about my knowledge (laugh). But, since I've gotten a chance I think I'll study a bit more about wine.
Drama
Now, I'm in drama mode and my mind is filled with that only….That's why, other than the drama, I can't think of anything else like composing music or the live. But I think it'd be great to be able to have various regular programs this year including stage plays. If given a chance I want to do a solo live. But at any rate, I'll work hard at my drama now!!
Interchange
Although I have no trouble talking to people I've met for the first time, I always can't take it a step forward from there. For example, even if I get along super well with the actors/actresses I work with, I can't ask for their phone numbers…something like that. But since there were many people who got my number it was a fulfilling year for interchanges. Thanks to that, I could have many great conversations.
Suit
I'm playing a white-collared worker in this time's 「神の雫」 (Kami no Shizuku) (Nippon TV Tuesday 10pm~), and because it's the first time I've worn a suit out, it's very refreshing and even I myself am looking forward to it. Also, every time there's a new drama, I change my bag and the day we start filming I use it. It's like a renewing my mood. But because I haven't bought one for this time, I have to go shopping immediately or else!!
Major League
I definitely want to go watch the Major League this year! Or rather I will go!! (laugh) Though I've seen it once before, it was very enjoyable. Of course I'll watch the Yankees, the Mets too…anyway a lot! It's nice to go with a friend but I'm fine alone. If my schedule can fit, I can go watch WBC (World Baseball Championships) too.
Akanishi Jin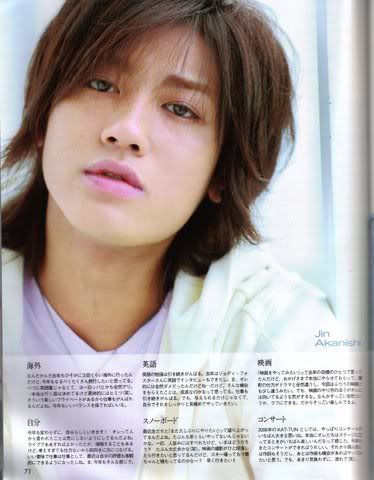 Overseas
Though I privately went overseas around 3 times last year for one thing or another, I think I want to travel as much as possible this year. It doesn't have to be to English-speaking countries, Europe, etc is totally fine. …Actually, though I've decided on the country, the concrete details are confidential (laugh). I can work hard at work due to such fun private times. It would be good to maintain a good balance this year too.
Myself
I will continue to be like myself this year without change! I don't take to heart what people say about me. It's no use thinking too much even if people say you should do this during live or if you'll regret, so just proceed positively. With a good sense, take work as it is, lately I can assess myself objectively. Well, with the same feelings I'll go through this year.
English
I'm working hard at English continuously. I could even do an interview last year with Jodie Foster in English. Well, I thought I was a total failure though… But, I think I've grown since I was given such a chance. I'm also working hard at work. But not just being given it, I want to have a clear picture of work myself.
Skateboard
Recently the atmosphere with my friends was livened up by saying, "I want to do it again after a long time". I think I haven't done it in probably 5 years. For the most part, I can skate like others but I wonder how I am now? Probably all right (laugh). Though I want to go once we finish one stage of the movie shooting, isn't the skating rink filled with snow~? I want to go soon!!
Movie
Although I said, "I want to try a movie" as one of the aims last year, thankfully I was really allowed to do it. The method of shooting is totally different from that of a drama, this time it also seems different from normal movies. But I feel like I'm more suited for the method of making a movie. It's very natural; or rather I can be casual. That's why I'm enjoying it very much.
Concert
The concert has to be the biggest memory for KAT-TUN in 2008. I feel that us being on the stage is the happiest. I'll be happy if we can do a concert again this year. And then, we'll write lyrics individually, and if I get a chance to compose the music I want to try it. But without being too eager, just going with the flow (laugh).
Taguchi Junnosuke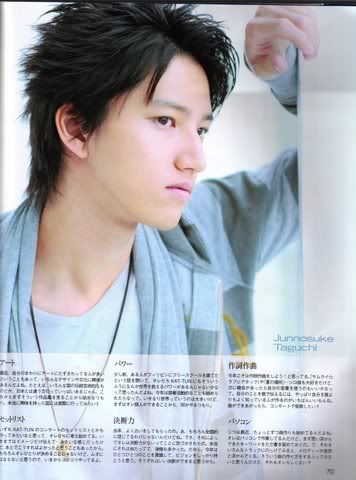 The Arts
Lately, there have been many people around me who are involved in the arts, and I also have interest in various designs, cultures, etc. For example, things like the traditions and arts of different countries, there are many countries with differing cultures from Japan. From now, I intend to start by looking at such collections. I want to actually go to the country that I'm really interested in!!
Set list
One of these days, I want to create KAT-TUN's concert's set list and I start thinking about what is seemingly me. Although up till now, I've only conveyed images, I have thoughts like if we do this concretely it'll be great. Of course, it's not for me to decide by myself, but as I think it won't go to waste, I'll work hard at it.
Power
Not too long ago, I heard that someone went to the Philippines to build a free school, and I thought that don't we, KAT-TUN, also have such a power to save the world? I thought we could start doing some charity events this year. Though it's too big a challenge to suddenly talk about the world, firstly I intend to do something that I as an individual can.
Decisiveness
Last year, I received a lot of fortune-telling. Ah, of course it's not like I believe it all-out. And well, from those, I was perceived to not have decisiveness. They really hit the nail on the head and I've had many regrets. That's why, this year, I will make myself conscious of each and everything and hold the vision firmly. If I do this, I think I can be decisive.
Composing lyrics and music
I think I will compose lyrics and music this year! Although I love the solo songs「サムライ☆ラブ☆アタック」(Samurai☆Love☆Attack) and 「夏の場所」(Natsu no Basho)… it'd be great if I use my own words the next time opportunity comes along. After all, the best person to express yourself using a song is the person who knows yourself better than anyone else. If the song is completed, I want to present it during the concert!!
PC
Actually, I have started on music composition little by little lately. Though I'm working on a PC, firstly I just take notes of the keywords that come to my mind. And, when I put the keywords in different tracks, the melody will come naturally. Even though I think there are few people who compose in such a way, it's just typical me!?
Tanaka Koki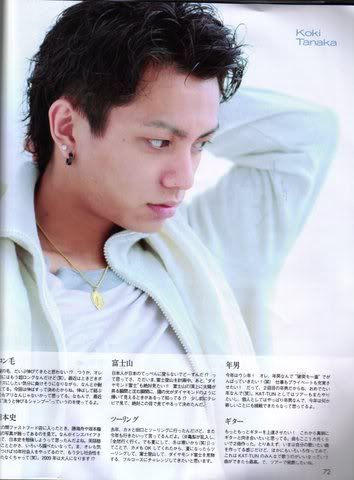 Long hair
Don't you think my hair has gotten long!? Even for me, it's already super long (laugh). Recently while I don't want to lose to the feelings of wanting to shave it all off, somehow I endured it. This time I've decided to let it lengthen. I think there's such a thing as letting it grow and tying it up. So, I'm using 'wash and it'll grow' shampoo lately.
Japanese history
The other day after I walked into a fast food restaurant, I saw the photos of Katsu Kaishu and Sakamoto Ryuma, etc on display. Somehow I was inspired and thought I should study Japanese history. I want to check out English cram classes and other stuff. Well, since I've already entered society for 10 years, I have to know more about society (laugh). I will become an adult in 2009!?
Mount Fuji
I was thinking how can a Japanese not climb to the top of Japan!? And so I'm planning to climb Mount Fuji now. Also, I definitely want to see "Diamond Fuji"!! Did you know that you can see the sun's rays sparkle like diamonds at the instant the sun rises or sets at the summit of Mount Fuji!? I saw it a while ago on TV and I definitely want to witness it with my own eyes.
Touring
Last year, I went touring with Kame and Taguchi, and said I want to go again this year. (※Kamenashi forces his way in and said, "Definitely I'll go. I'll go. But let's go in the summer, because it's cold in winter (laugh).) So as I got Kame's OK, when summer comes, I want to go touring, climb Mount Fuji, see Diamond Fuji – do the full course.
Toshiotoko (A man who was born in a year with the same sign of the Chinese zodiac as the current year. There are 12 signs in all.)
This is the year of the Ox! I want to work hard by "rushing recklessly~" as I'm a toshiotoko! (laugh) I want to be enriched at work and at play! Because, it's the second time I'm the toshiotoko, it's a joyous year (laugh). I want to have another tour as KAT-TUN, after all I'm a toshiotoko so as an individual I want to challenge myself in new things.
Guitar
I want to improve my guitar skills more and more! From now on, I want to face the guitar earnestly. I composed 2 songs in this 1 month. For the time being, though now I compose songs that I myself want to sing, I also compose other various songs and if there's a song that would be good for everyone in KAT-TUN to sing together, it'd be the best. And I want to present my songs during tour.
Ueda Tatsuya
Goal
Though I'm not the type who makes goals much, after 1 year has ended, I think it'd be nice to be able to feel "I have matured". On the other hand, without such deep thinking, something like isn't it enough to just be able to be yourself no matter you do!? So I will do things at my own pace this year too. For the time being, I have no big plans to change my hairstyle or clothes.
Solo album
If possible I want to put out a solo album. I think my very own color is different from KAT-TUN's and I can risk it with good significance. By doing this, each member is challenged and as a result it'd be so like us to go up another level. Also, I'd be happy if we can go on tour this year as well. If possible, a Dome tour, etc.
Sparring
Last year during my private times, afternoons belonged to boxing and nights belonged to play, and both were very enriching. Especially for boxing, though I didn't notice that I've improved, after a long absence, my sparring partner said I "got better" and made my day. This year I want to be able to spar with someone equal to a professional!
Travelling overseas
If I think about it, I couldn't even go overseas once last year. But in fact…this year I have plans to go! Well, I still can't give you details on why I'm going…. There are lots of places I want to go! Europe seems fun, and I want to play to my heart's content at America's large amusement parks too. Also, the beautiful beaches of Asia are good too.
Solo live
Last year, I was allowed to hold a solo live and I know the joy in creating everything. And, it was simply very fun as there was really great teamwork among the people who participated with me, including the staff. Because of that, if I get the chance again I want to do it again; just thinking about it makes me desire it with excitement. Actually I've already started thinking about the songs and content little by little.
Romeo & Juliet』
Because the play starts in March, I'm facing it and concentrating on the feelings. I think I want to do music that sounds like me. In a play, there are things that go across through vocal performance and conversely there are parts similar to acting and a song's power of expression. That's why I think it's a great experience. I'm also looking forward to it myself.
Nakamaru Yuichi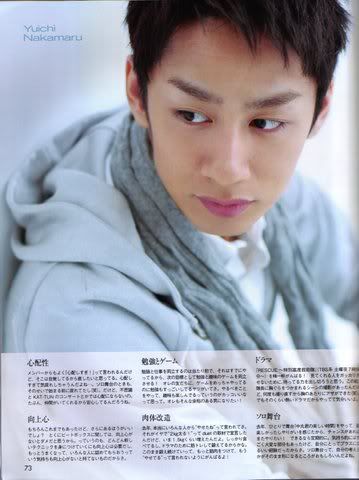 Worrywart
Though I always get told "You're worrying too much!" by the members, I am self-aware of it and want to fix it. Worrying too much causes mental fatigue…. During my solo stage play too, due to that I was tired before I started (laugh). However, mysteriously I don't worry about KAT-TUN's concerts. I suppose it's because I feel at ease with companions around.
Ambition
Of course I've had it all along, but isn't it better to have more of it? Especially when it comes to beatboxing, I think it'll be no good if I'm not ambitious. Furthermore, to acquire new techniques rapidly, ambition is necessary. And one will not improve and be recognized by people if one has no ambition.
Studies and games
It goes without saying that juggling both studies and work is a given; I've already been doing that, as the next goal, I will juggle studies and gaming! Among my friends, there are some who play extremely well in games and score well in studies too. They do what they should do; I think it's cool to be able to have fun in hobbies. I also want to be such a man!
Physical remodeling
Last year, there were really many who said that I was 'skinny'. Although from duet's information collection it was announced that I 'gained 2kg!', now it's increased by around 1.5kg. I eat to my fill; I think it's due to the muscle training for my drama. I'll keep up the training like this, and develop more muscles, and work hard such that I won't be called 'skinny' again!
Drama
I work to the best of my ability in 「RESCUE ~特別高度救助隊」 (RESCUE ~Tokubetsukoudo Kyuujotai) (TBS Saturday 7.56pm~). So as not to disappoint those who watch the drama, I will exhaust all the strength I have. Previously, there was a scene whereby I was to be seized by the collar by the captain. Because we had to redo the scene so many times, I got a bruise around my chest (laugh). But because it was such a passionate drama I'm happy to be shooting it.
Solo stage play
Last year, I did a stage play 「中丸君の楽しい時間」 (Nakamaru-kun no Tanoshii Jikan) by myself and because I had so much fun and a sense of satisfaction, if I get a chance I want to do it again! Regularly, if possible. With regard to emotions, there were portions that were very difficult, but to me those are good experiences that benefit me. The interesting thing about a solo stage play is the part where your thoughts materialize.
Creditos:
http://kat-o-tun.livejournal.com/3729.html
+ popasian + reikis.blogspot.com